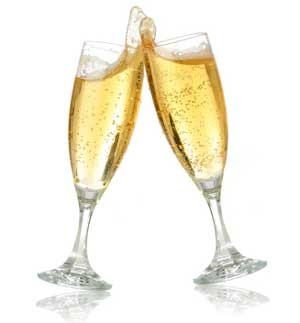 The New Year is here. NYE is a time for friends, family and celebrating with people you love. If you went slightly crazy on the bubbles, here are some simple tools to get your body back in check so you can have a beautiful January 1, 2013.
Eggs – with the yolk. Egg yolk contains cysteine. Cysteine breaks down the toxin acetaldehyde in your liver, causing your hangover.
Coconut Water. Coconut water is a great source of potassium, calcium and chloride. The electrolytes in coconut water will help your body rehydrate and boost energy levels. Coconut water has more natural electrolytes than any sports drink and is a better option.
Bananas. Alcohol drains your body of potassium. Bananas are packed with potassium, which will assist your body in a faster recovery from the night before.
For everyone with NYE resolutions, do not try and do everything all at once! Strive for progress, not perfection. Have goals but make them realistic and manageable.
Happy 2013!