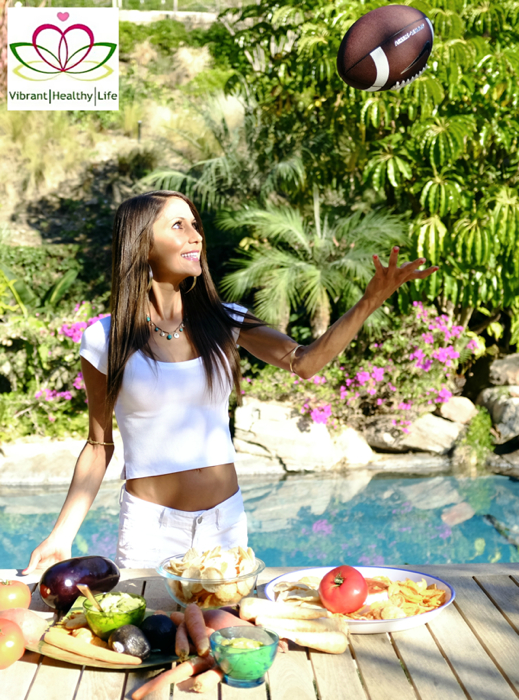 My quick and easy client guide for a balanced, healthy game day. Yes, it is possible.
Mental Preparation: When you are hungry your brain is looking for a quick fix to give you energy and you automatically will be attracted to the worst possible food choices. Do not starve yourself all day and then plan on pigging out. Have a smart snack or filling balanced meal before. My three ingredient Southwestern Salsa Scramble recipe was recently featured in Entrepreneur Magazine and is a great, quick option that combines protein and healthy fat. It also takes less then five minutes to make.
Cha-Cha Chip Time! Healthier options are whole-wheat pita chips, pop chips or air-popped popcorn (for more tips on The Truth About Carbs you can check out my piece here). Baked chips are better than classic potato chips. Why? The hidden preservatives, and addictive ingredients in classic potato chips are what make you want to keep munching (because they spike your blood sugar levels) and make you crave more junk food. Two of my favorite healthy brands (without compromising taste) are Beanitos and Corazonas. You can find these at any local grocery store. They are much more nutritious and delicious than your classic potato chips and will keep your blood sugar levels stable which will keep you more full and satisfied for a longer amount of time.
Bottom Line: when selecting baked chip brands look for chips with the least amount of processed ingredients. Below is my Simple Sweet Potato Chip recipe that takes ten minutes to make. If you like this recipe check out my Skin Clearing French Fry Video Tutorial  here.
Carina's Simple Sweet Potato Chips: chop a medium or large sweet potato into thin slices, add some spices of your choice (cinnamon is great for sweet and cayenne pepper is great for spicy. For different spice options along with their various health benefits check out my old piece here.) Use an all natural cooking spray, place on a baking tray and toss into the oven for ten-fifteen minutes or until the top is a golden brown. Do not be intimidated by cooking. It can be simple, easy and stress free. But only partake if you are in the mood. Sweet potatoes are one of my favorite healthy carbohydrates and skin superfoods. They are loaded with fiber to keep you more full for a longer amount of time, vitamin C, vitamin A, potassium, and magnesium. Not to mention, beta-carotene, a cancer fighting antioxidant. Vitamin A is fantastic for the bags and dark circles under your eyes. Vitamin C will give your skin a young, fresh glow and is a great immune system booster. Chips that will clear skin, reduce cravings and taste divine in under fifteen minutes? YES PLEASE.
Divine Dips! Get Saucy with Salsa. Salsa and hummus are great, healthy options. Go for these instead of the artichoke dip, or crazy cheese dips. Sweet potato chips with salsa are one of my favorite combinations. Do not fall for the hidden salsa trap. Most store brand salsa is loaded with excessive sugars and preservatives. This actually will make you much hungrier and harder to control your eating (you are going to keep wanting more and more.) If you are not in the mood to dice up your own healthy salsa (onions, cilantro, lime and tomatoes) simply make sure there are no added ingredients in your salsa and you buy real, all natural and non-processed (all you have to do is make sure you can read the ingredients on the label.) Salsa contains capsaicin, the chemical responsible for spiciness. It stimulates digestion and in various studies has been shown to aid in the prevention of stomach ulcers. Capsaicin also helps activate the release of endorphins (the feel good hormone) in the body.
Holy Moly Guacamole! Avocados have incredible health benefits. These guys are loaded with heart healthy fats that help decrease stress and anxiety. They also are a good source of vegetarian protein, have more potassium than a banana and great for banishing blemishes due to the high vitamin content. Remember to keep it simple, there is no need for excessive ingredients (fresh lemon or lime, avocado and a dash of salt-pepper.) It is very easy to get guacamole happy as well. Make sure you eat this divine side in moderation. For another healthy avocado recipe try my Avocado Dark Chocolate Shake recipe here or my Zesty Lemon Mash recipe here.
Carina's Secret Saucy Protein Dip: mix together avocado (1/8 cup), salsa (1/2 cup) and plain non-fat Greek yogurt (1/2 cup) with a dash of garlic in a bowl or blender for a funky healthy protein packed dip that will keep you full, satisfied and taste great. Experiment with different textures! If you like a chunky dip, simple blend or mix for a shorter amount of time. Adding the Greek yogurt will give you a rich creamy texture along with other benefits such as healthy bacteria for digestion, protein and calcium for bone health. If you are dairy free, simply alter the recipe to make it work for you. (Check out my Energizing Ranch Dip Video Tutorial here for another option.)
Beer? Here are the best tasting light beers according to a recent survey in Men's Health: Adams Light, Heineken Premium Light, Amstel Light, Kirin Ichiban Light and Bud Light.
I always remind clients to be mindful of their portions. Try not to eat directly from the buffet, kitchen fridge, bag or box. It is very easy to get lost in the game and mindlessly munch on what is directly in front of you. Take a plate and put a reasonable amount on your plate. Remember what you are doing: watching the game and hanging with family or friends (not just consuming ridiculous amounts of food). Live your life and enjoy yourself while being healthy.
More information about my Custom Programs can be found here
For more easy recipes swing by my library of Eat Yourself Gorgeous Video Tutorials
Need more tools?
Check out my Divine Dark Treats for Valentines Day or my Simple Steps to Change Habits 
As always, focus on progress, not perfection and have compassion for yourself.
Love,
A cause that is very dear to my heart is the National Multiple Sclerosis Society. I have formed a team in honor of my grandmother, Dr. Lailee Bakhtiar, who passed away after a 21 year battle with the disease. You can learn more about my team here.